SAS 3 also has premium bundle packs that offer cheaper methods of buying all of the premium items. They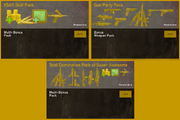 include the XSAS Skill Pack, Gun Party Pack, and the monster of all premiums the TDPSA (Total Domination Pack of Super Awesome). Of course if you don't have enough NK Coins to buy these, you could just buy singular guns or skills BUT buying all guns separately will be a lot more expensive then by buying the TDPSA.
XSAS Skill Pack
Edit
This pack consists of all the premium skills you can buy in this game. This includes: Health Regeneration, Increased XP, Increased Cash, and Extra Damage. (See Skills for more details) It costs a Cheap 8,000 coins. For Rank 50s, the suggested skills you should buy are Health Regen, Increased Cash, and Extra Damage. You won't be using that Increased XP. The total cost for those skills is 100 NK coins, 300 NK Coins less than the whole pack. There's always the possibility of new ranks, however, so maybe the whole pack could be worth it.
Gun Party Pack
Edit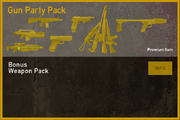 As the name suggests this pack has all of the premium guns in the game as well as any future premiums that might get added later on. It costs 300 NK Coins. By buying this you save 114 NK coins, as buying all guns individually costs 414 NK coins.
Total Domination Pack Of Super Awesome
Edit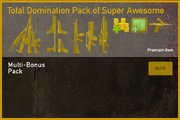 This is the most expensive yet most complete premium any premium game has ever had to date. This consists of ALL the guns and skills (premium and non premium). It also includes $250,000 in-game cash and most of all sets your rank to Commander- Already a rank 40. This is truely one epic premium, but it ain't cheap at 400 NK Coins! And since 1.00 USD buys around 10 NK Coins it will cost you at a staggering 40 USD! (not sure yet).