SAS 3 is currently available for the iPod, iPhone, iPad (4.2 or later) and Android devices. It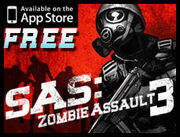 was released for the iOS on 19/12/2011. The app is currently version 1.7. It is free on the app store. Mochi coin purchases are replaced with in-app purchases. It is rated 12+ on the app store for Frequent/Intense Cartoon or Fantasy Violence, Frequent/Intense Horror/Fear Themes.
There is currently a WIP SAS 3 iOS wiki, created by me (TigerBlood). If you have or would like more information about the iOS version please check it out here.
Key Differences
Edit
There are many differences between the iOS and PC version. Here are some of the main ones:
There is no nightmare mode on iOS, players continue to gain XP normally after Rank 40.
A number of ranks unlock different skills, such as rank 46 unlocks the skill "Medic" instead of "Fast Reload Specials". In 1.7 the Medic skill actually unlocks Hi-Cap magazines and not whatever it was supposed to. The AMT Team are working to fix this.
Apocalypse mode is beatable in the mobile version, but not the PC version.
Ad blocker interference detected!
Wikia is a free-to-use site that makes money from advertising. We have a modified experience for viewers using ad blockers

Wikia is not accessible if you've made further modifications. Remove the custom ad blocker rule(s) and the page will load as expected.